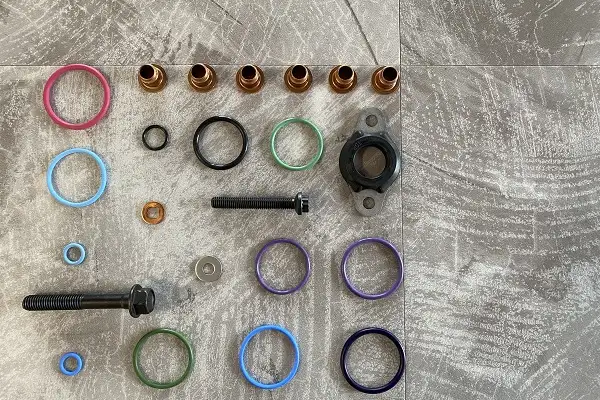 The primary function of the Fuel Injector Seal Kits is to create the seal between the injector and rail, which prevents fluid from leaking into the engine and causing the engine to fail.One important component of fuel injectors is the O-ring, specifically the O-ring for fuel injectors.
MJ Gasket offers Fuel Injector Seals(Fuel Injector Gasket) and O-rings of truck diesel engines, including Individual Seals and Kit. That fit all major North American truck engines.
We explain the most critical factor for customers to replace Fuel Injector Seals and what they care about most when deciding on Fuel Injector Seals.
You can find Fuel Injector seal kits that fit:
Detroit Diesel DD13/DD15/S60
Caterpillar C15/3406E
Cummins ISX15
Volvo D13/Mack MP8
Navistar DT466E
What happens if fuel injector o rings/seal fail?
Difficulty starting: A bad injector o-ring can cause the vehicle to experience difficulty starting. It may take longer to start the engine or require multiple attempts before it finally starts.
Misfires: When injector seals fail, it can cause the engine to misfire. This means that one or more cylinders are not firing correctly, resulting in a rough idle, hesitation, and decreased performance.
Loss in power, acceleration, and fuel efficiency: Faulty injector seals can cause a loss in power and acceleration, as well as a decrease in fuel efficiency. This can lead to higher fuel costs and decreased performance.
Stalling: In more severe cases, a bad injector o-ring can cause the engine to stall. This can be dangerous if it happens while driving, as it can lead to a loss of control over the vehicle.
Why does your customer need a high-quality Fuel Injector Seal?
One of the most searched in Google for fuel injector seals is "How much does it cost to replace a fuel injector seal?" While your customer's fuel injector is failed.
Your consumers are considering how much they need to pay to replace it. They are looking for items that can save money.
Why is it essential for a high-quality Injector Seal Kit?
Offer high-quality fuel injector O-ring that can build customers' trust by solving their biggest concern, MONEY! You can also gain brand and product reputations, leading to more consumers with high customer loyalty and life-long business!
Why should you need an excellent supplier for an Injector Seal kit?
Our Injector Seal Kit is here to assist you in reaching the goal above!
We aim to offer high-quality gaskets to stabilize productivity at half the price of OEM manufacturers to reduce your cost. Even if the inflation spike or currency exchange rate fluctuates significantly, this creates a win-win situation.
What Diesel Fuel Injector Seals and O-rings does MJ offer?
Now you know the importance of diesel injector seals. MJ provides seal kits for your engine injector system, And the perfect fit is our final mission.
Our vision is "Develop Nonstop"; We are curious about anything new, including product development and in-depth knowledge.
Below listed, we are confident to recommend our best-selling Fuel Injector Seal Kits:
Caterpillar – Fuel Injector O-Ring Kit
Prevent fuel leaks in your engine with Caterpillar Fuel Injector O-Ring Kits, available for C10/C12 and 3406E/C11/C13/C15/C16 models.
Detroit Diesel – Fuel Injector Seal Kit
Ensure your Detroit Diesel engine is running smoothly with the right fuel injector kit.
Cummins – Fuel Injector Seal Cup
The 2872717 Fuel Injector Seal Cup is a crucial component for Cummins ISX diesel engines, ensuring proper fuel injection and engine performance.
Navistar – DT466E
Volvo – D11/D12/D13/D16
If the items you are looking for are not listed below, please send us the OEM numbers, or contact us by email or the button below.