DETROIT DIESEL® A4721841980 Oil Cooler Gasket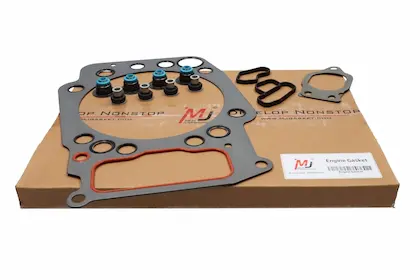 This gasket is a replacement gasket for Detroit Diesel OEM #A4721841980
Applications
Material
The material is Metal Bonded with Rubber.
Function
Oil cooler system is typically used to remove surplus heat from an internal combustion engine. The hot engine transfers heat to the oil which then usually passes through a heat-exchanger, typically a type of radiator known as an oil cooler.
Fill Below Form to Get
Free Sample & Quotation
For more information on our full product range, including those that aren't featured here on our website, please contact us or submit a request.
The part numbers of original manufacturers are for reference purposes only. Each part shown will fit the brand application mentioned in its name. MJ Gasket is not affiliated with any of the listed original part manufacturers. Brand names and trademarks mentioned are owned by the individual companies.