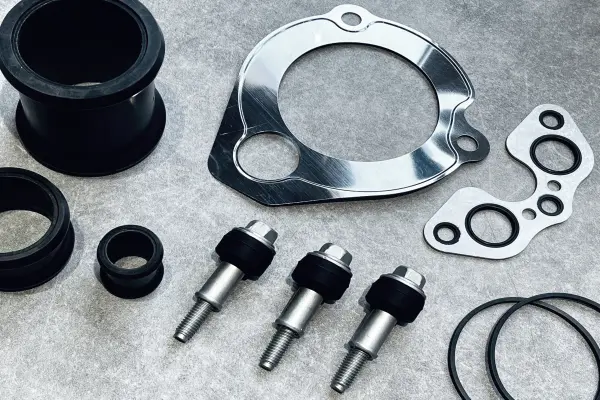 MJ continues expanding aftermarket gaskets and parts for diesel engines. Gaskets for Detroit Diesel engines are undoubtedly one of MJ's supplies, we also offer some engine parts, from the earlier engine models – Series 50 and Series 60 to the current ones – DD13 and DD15.
Talking about Detroit Diesel engines DD13 and DD15, they have been one of the most popular heavy-duty diesel engines in North America these years.
Looking for the parts for Detroit Diesel DD13 and DD15? MJ can offer what you need.
Detroit Diesel Replacement Engine Parts
MJ offers engine parts for DD13 and DD15. Below are the featured products which are available with MJ now.
Screws and Bolts
For Oil Pan
The screw to connect oil pan to the engine crankcase is A4720140583.
For Cylinder Head Cover
A4729980147 and A4729980247 are the screws to connect cylinder head cover to camshaft frame.
For Fuel System
We also offer fasteners which are using in fuel system.
A4700900579 is a gasket and screw kit for the fuel cooler; to seal the injector line gaskets, it uses N910105006026.
Connecting Pipe
A4722000154 and A4721400648 are located at DD13 and DD15 engine exhaust gas cooler system.
A4722030315 is used at fuel filter.
Molded Hose
A4729970353 is used at the EGR cooler to the intake manifold; A4729970453 is used at the exhaust manifold to the EGR cooler.
Detroit Diesel Replacement Engine Gaskets
MJ has a complete product line for Detroit Diesel DD13 and DD15 engine gaskets.
* Head Gasket
* Exhaust Gasket
* Intake Gasket
* Water Manifold Gasket
* Oil Pan Gasket
* Valve Cover Gasket
* Turbo Gasket
* EGR Gasket
* Doser Injector Gasket
* Injector Install Gasket Kit
* High-Pressure Pump Gasket
* Crankcase Breather Gasket Kit

If the items you are looking for are not listed above, please send us a message with Detroit Diesel part numbers, we will get back to you soon.
Some concerns or questions you might have when you would like to make an international purchase, check out our FAQ page for more details or contact MJ sales team now.