Looking for aftermarket with OEM quality turbo gaskets for Ford EcoBoost 3.5L engine? If your answer is Yes, do not hesitate to contact us now!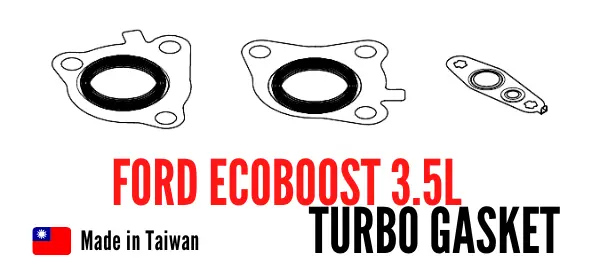 Ford EcoBoost 3.5L is for one of the most popular trucks – F-150, the engine is equipped with BorgWarner twin turbo.
Turbos compress air flowing into cylinders for engine combustion and gain higher horsepower. Turbo is important to increase EcoBoost 3.5L performance, also the turbo gaskets are crucial for turbo working.
The materials for Ford EcoBoost 3.5 turbo gasket
Turbo Gasket (LH & RH): Stainless steel with reinforced graphite.
Turbo Oil Line Gasket: Rubber coated metal
Catalytic Converter Gasket: Multi-Layer Steel
Add the items into your quote list to get a quote; if you would like to make these gaskets into a turbo kit, click the below button to contact our sales team!