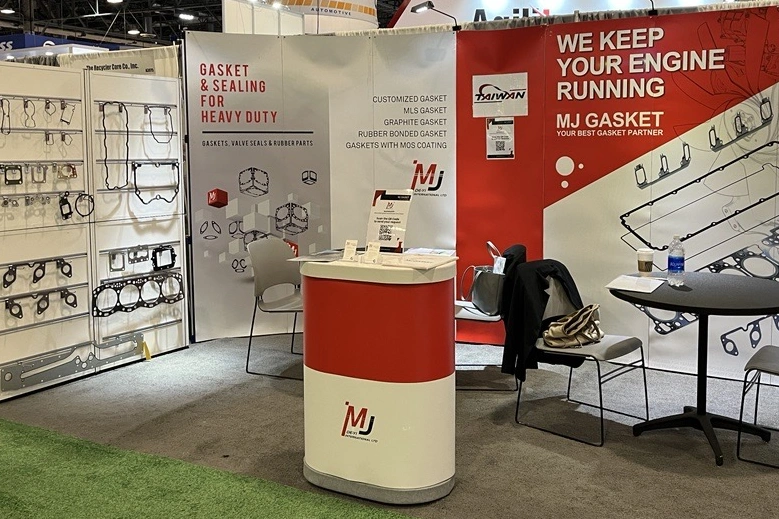 After 2-year Covid, it was nice to see everyone in person at the AAPEX show again!
We talked about the situation of the past two years and how everything has been going recently. The most important topic is – what's the NEW that MJ is bringing.
If you did not have a chance to stop by our booth, don't worry, you can still send us an email or fill out our online form to drop us a message.
This year we showcased our featured products in our booth.
The Top 3 Featured Products
A. VGT Turbo Actuator Gaskets
We have the two popular VGT turbo actuator gasket kits which fit Cummins B6.7 and Cummins ISX15, Volvo D13, Mack MP8, Paccar MX-13, and Detroit Diesel S60.
More VGT turbo actuator gaskets
B. Turbo Gaskets
One of the most popular products at AAPEX show – turbocharger gasket, the ones we brought to the show are for Paccar MX-13 engine.
C. Crankcase Breather Gasket Kits
We have crankcase breather gasket kits for Detroit Diesel DD13/DD15 and Volvo D11/D13/D16.
Read more about crankcase breather gaskets
Overall, we were so happy to be back, the show was a success. Before wrapping up, we gathered some of the most frequently asked questions from the show, we will list them below.
Frequently Asked Questions at AAPEX
Q1. Do you have warehouses in the states?
A. No. Our factory is located in Taiwan and we ship gaskets from Taiwan directly.
Q2. Do you offer gaskets for automotive engines?
A. No. We mainly offer gaskets for heavy-duty engines and some of pickup truck engines.
Q3. Do you have a catalog?
A. We post everything on our website, visit our Product Page or search the part numbers directly in the search bar.
More questions you may have, please visit our FAQ page
AAPEX is always a great show and a good opportunity to meet people from the aftermarket world. If MJ is new to you and you are interested in knowing more about MJ, write us an email!
See you at AAPEX 2023!