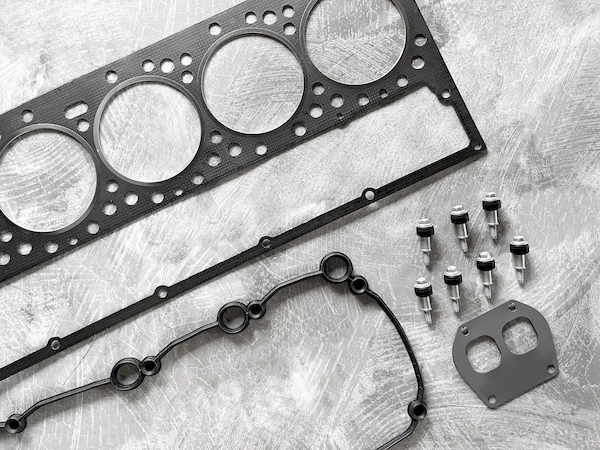 MJ keeps exploring new aftermarket heavy-duty diesel engine gaskets and engine parts. We offer not only the engine gaskets and engine parts for the most popular engine – Cummins ISX15 but also for the inline-6 XPI fuel systems engine – Cummins ISX12.
The article is about the engine gaskets and engine parts for Cummins ISX12. Samples are available for quality check.
When looking for the gaskets or the parts for Cummins ISX12, contact MJ right away!
Cylinder Head and Valves Group
Cylinder Head Gasket
The cylinder head gasket for Cummins ISX12 is a silicone coated graphite gasket which make a perfect sealing between the cylinder head and the cylinder block.
Valve Cover Gasket and Screws
The gasket and the screws for the valve cover are both available with MJ.
Front and Rear Cover Group
There are several housing seals for Cummins ISX12 front and rear cover. The elastomer material is working well to fit different shapes of the grooves.

Exhaust Manifold Group
The Cummins ISX12 exhaust manifold gaskets are made of 6 layers of steel coated with MoS2. The material MLS with MoS2 coating can resist heat and pressure in exhaust systems.
This is not the end of Cummins ISX12 gaskets we have. The below types of gaskets are also available with MJ.
*Oil Pan Gasket
*Cover Plate Gasket
*Oil Cooler Gasket
*Rocker Lever Housing Seal
*Fuel Pump Gasket
*Thermostat Housing Gasket
*Oil Filter Head Seal
*Lubricating Oil Cooler Cover Gasket
*Camshaft Cover Seal
We continue expanding our product range. If the items you are looking for are not listed above, please send us a message with Cummins part numbers, we will get back to you soon.
Some concerns or questions you might have when you would like to make an international purchase, check out our FAQ page for more details or contact MJ sales team now.