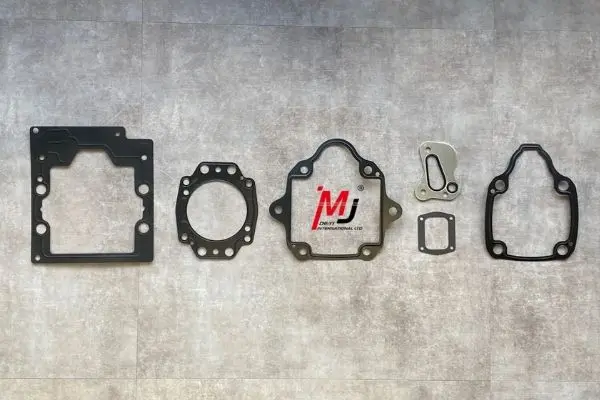 Hydraulic pump is the power component of the hydraulic system, it powered by the combustion engine or electric motor. The function of a hydraulic pump is to converts mechanical power into hydraulic energy.
It is used in a wide range of applications such as agricultural equipment, construction & mining equipment, press or injection molding machines, etc. In this article, we mainly introduce our aftermarket hydraulic piston pump gaskets.
As a hydraulic pump gasket manufacturer, MJ Gasket not only provide factory-direct and high-quality gaskets to bring you high margins, but we are also committed to providing more flexible repair solutions for your hydraulic pump service business.

Flexible Hydraulic Piston Pump Gasket Repair Options
When a customer comes to you with a hydraulic pump with sealing problems, have you ever wanted to buy a single gasket for repair, but most of the hydraulic pump gaskets on the market are sold as a complete repair kit? This will result in spending more money on temporarily unnecessary parts.
MJ provides individual hydraulic pump gaskets, allowing you to purchase only the parts that need repairs to control costs. In addition, if you need to assemble your own customized hydraulic pump repair kit to sell to your customer, the high-quality gasket provided by MJ will also be your best choice.
We provide hydraulic piston pump gaskets for most of the leading hydraulic brands: Eaton, Vickers, Danfoss, etc. The main materials we provide are metal bonded with rubber and RCM. We have most of the gaskets for these leading hydraulic brands as mentioned, of course, we can provide a large quantities of gaskets, but we can also meet your small amount of gasket needs. The only thing you need to do is to contact us first and let us know the part number and quantity of the gasket you need.

4460655
DANFOSS Series 40/M46
Filter Adapter Seal
Material: Metal bonded with rubber

EATON 72400 Model
Housing Gasket
Material: Rubber-Coated Metal (RCM)
Anyways, if you have any customized gasket requirements, you can also send us the relevant product information or drawings for us to evaluate and quote.
In addition to providing hydraulic pump gaskets, we also provide other pump gaskets, such as Parker Chelsea PTO gaskets. If you are also interested, please don't hesitate to contact us.