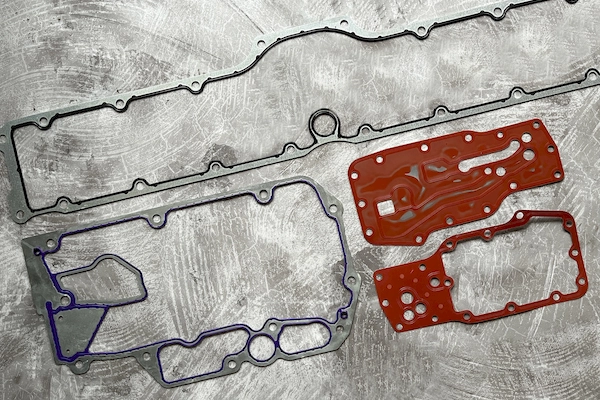 The oil cooler gasket plays a vital role in the engine oil cooler. If your oil leaks before it can perform its job, it may cause your engine to become flammable, seize, and destroy the parts in your engine. This article will let you know how to choose the right gaskets.
What is Oil Cooler?
An Oil Cooler is designed to keep your engine oil cool at optimal temperature; it's usually used in Heavy-Duty Industries or Truck Engines. It provides a cooling effect and prevents oil from overheating because that will cause oil to lose its viscosity.
The oil cooler gasket is the most crucial part of keeping the oil cooler working well; it's designed to keep oil from leaking before it can adequately lubricate the engine components.
Can you drive with a leaking oil cooler?
It can be dangerous to drive a vehicle with an oil leak. A small oil leak can grow larger and cause a more expensive repair.
Remember, once oil reaches a specific temperature, it can be flammable, and the engine and other parts may be on fire.
Plus, if the leak worsens while a vehicle is working, it may cause the engine to seize and damage the engine components. Consequently, driving with an oil leak isn't worth risking.
Why Does the Engine Oil Cooler Gasket Malfunction?
Incorrect installations: Please make sure you install your oil cooler gasket in the right way.
Gasket quality: How long an oil cooler gasket can maintain depends on the quality of the gasket.
Regularly replacing: The gasket didn't change while engine maintaining or repairing. You should check your engine oil cooler seal while maintaining or repairing it.
Over time: The oil cooler gasket can fail because of overtime.
How to solve an Oil Cooler Leak?
Choose a high-quality oil cooler gasket set for your oil cooler; We will discuss it during the next question.
Find a trusted or high-rated repair workshop and technician.
Replace your gasket when it is losing its tightness.
How to choose a High-Quality Aftermarket Oil Cooler Seal, Gasket that meets OEM Quality?
You can check if the oil cooler gasket has any flashes and burrs. Besides, check if the materials, dimensions, and duro meet the same OEM.
When some of the OEM gaskets leak, to solve this problem, aftermarket manufacturers change the gasket material to improve. For dimensions and duro, we recommend getting closer to the OEM.
Most importantly, MJ Gasket has trained a professional and reliable team to understand customer needs and solve their problems. Apart from this, we have advanced measuring instruments to ensure our quality is the same as OEM.
Are you looking for an Aftermarket Oil Cooler Gasket Set? At the same time, do you want the products you get to be OEM-level quality? That's what we offer.
Oil Cooler Gasket Set
Oil Cooler Gasket
Oil Cooler Seal

This is not the end of oil cooler gaskets we have. The below brands are also available with MJ.
| | | |
| --- | --- | --- |
| -Caterpillar | -Volvo | |
| -John Deere | -Mack | |
| -GM Duramax 6.6L | -Paccar | |
If you have any questions, you can check our FAQ page or contact us.