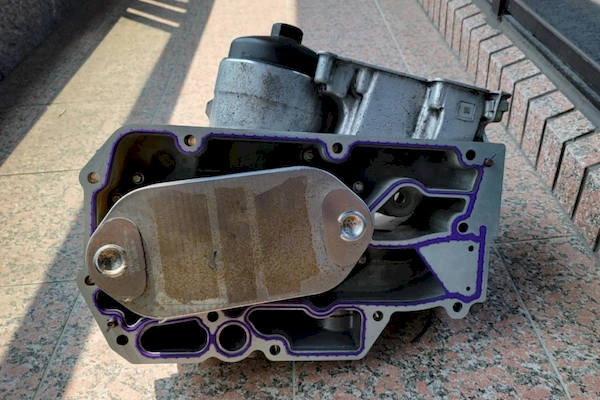 Oil Cooler Gasket Materials: In this article, we will primarily focus on the materials used in oil cooler gaskets, which are typically made from a variety of substances. Some commonly used materials include:
RCM |

Advanced Coated Steel
To address the sealing issues of oil cooler gaskets, MJ Gasket offers a variety of coatings to meet your needs, including MoS2, ceramic, and rubber.
MoS2 coating is a compound known for its ability to withstand high pressure and high temperatures. Many multilayer steel gaskets are coated with MoS2 to effectively resist heat and pressure.
Ceramic coatings can also be applied alongside MoS2 to gaskets for optimal performance. Additionally, we offer rubber coating options. The most common rubber materials used for rubber-coated metal are Nitrile Rubber (NBR) and Fluorocarbon Rubber (FKM). NBR has a heat resistance of approximately 150°C, while FKM can withstand temperatures of up to 250°C. Both of these rubber materials enhance the durability of steel in harsh environments.
Learn more:Steel with Advanced Coating | Custom Gaskets Material
Rubber and Rubber-Metal Bonded Gaskets
Precise Homogeneous or Rubber-Metal Bonded Gaskets are custom molded from various engineering elastomers, designed specifically for high-performance engines and various other applications. These gaskets can be bonded to metals such as cold-rolled steel, stainless steel, brass, or aluminum, making them compatible with all types of elastomers.
In the process of bonding rubber to metal, the rubber is mechanically secured to the metal during the rubber molding stage. This method provides a straightforward and efficient way to bond various rubber types to surfaces, making it an ideal manufacturing process for producing components.
A notable example of rubber-to-metal bonded components is encapsulated molded steel gaskets. These gaskets exhibit exceptional strength and durability, combining the flexibility of rubber with the stability of metal.
Learn more:Metal / Plastic Bonded with Rubber | Custom Gaskets Material
Steel Strip Silicon Coating
Silicone rubber can withstand a wide range of temperatures, with its temperature resistance depending on the specific type of silicone rubber. In general, it can remain stable at extremely low temperatures (typically as low as -40°C or even lower) and at extremely high temperatures (usually up to 200°C or higher). This broad temperature tolerance makes silicone rubber a versatile material suitable for various applications, including the food industry, medical equipment, automotive industry, aerospace, and more. It's worth noting that different types of organic silicon may have slightly different temperature ranges, so selecting the appropriate grade is crucial for specific applications.
Non-asbestos
Asbestos-free gaskets are significant alternatives to asbestos-containing gaskets that were previously used in the fluid sealing industry. Asbestos was widely employed in industries due to its excellent heat resistance but has been banned due to its recognized health hazards. Asbestos-free gaskets represent a safe choice as they do not contain asbestos, reducing health risks in applications.
Asbestos-free gaskets typically exhibit excellent heat resistance, making them suitable for high-temperature applications such as air compressors, diesel engines, and pipelines. Additionally, they are also suitable for applications involving contact with water, gasoline, or natural gas. Due to these characteristics, asbestos-free gaskets find widespread use in various industrial and marine environments, making them a highly practical product.
In summary, asbestos-free gaskets are essential replacements for asbestos-containing gaskets, reducing health risks in their applications. They offer excellent heat resistance and versatility, allowing them to be applied in many different industries and environments, making them a highly practical product.
What can MJ Gaskets provide?
MJ Gasket continues to expand our product range. If the item you are looking for is not listed above, please send us a message with the part number, and we will get back to you as soon as possible.
When you are interested in making an international purchase, you may have some concerns or questions. Please visit our FAQ for more details, or contact MJ's sales team directly.